The Kettenkrad in combat:
This is one of my favourite pictures showing the Kettenkrad in action. The picture was taken at the north of the Eastern Front on December the 22nd, 1943. Picture from the German Federal Archives (Bundesarchiv).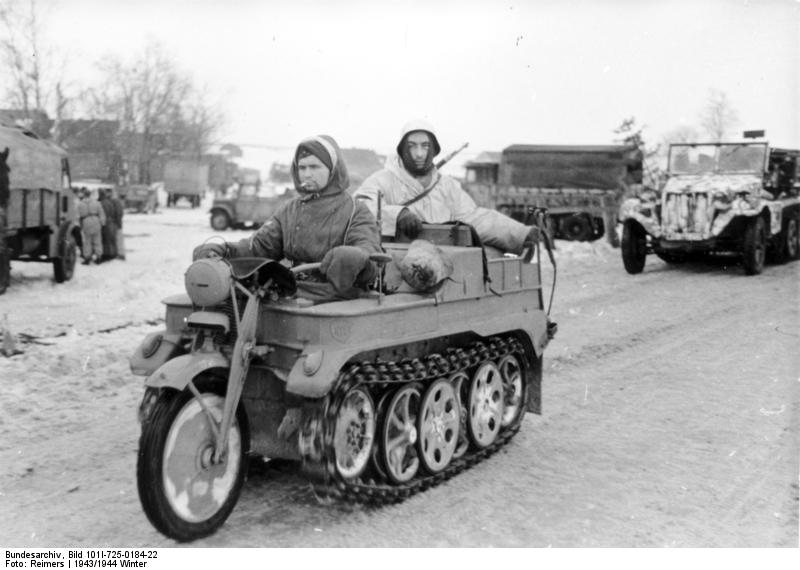 Must be cold there. Note the bags to keep the the driver's hands warm. The enemy isn't too close, so the driver wears no Stahlhelm and smokes. While wearing the Stahlhelm, smoking was forbidden!
From the icy-cold Ostfront to the burning heat of the western desert: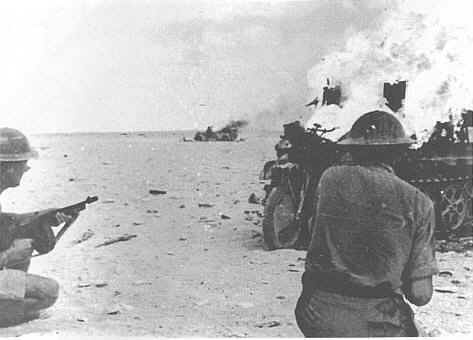 British troops hide behind a burning Kettenkrad. The Kettenkrad is a very early version, with the big holes in the outer wheels.
A better job for the Kettenkrad at the home front: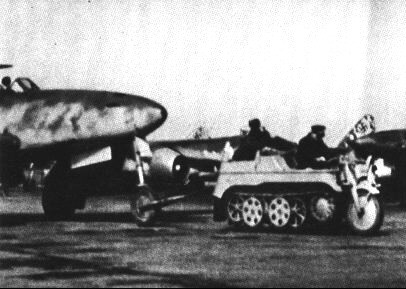 A Kettenkrad tows a Messerschmidt ME 262 jet fighter on a German airfield (1944 or 1945). To save fuel, the jet fighters didn't taxi with their own engines. (Sorry for the poor quality of the picture. Do you have a better one?) Note that only very few Kettenkrads were used for this job.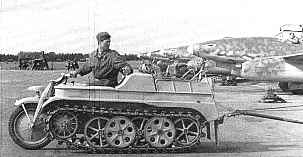 The pictures are stills from a German Luftwaffe training movie.
There is a model kit from TAMIYA, which shows the combination of a Kettenkrad towing a ME 262.
Please note the two tow ropes, which can be seen on the small picture. Towing the aircraft on the nose wheel was strictly prohibited. The aircraft was towed by the two ropes, attached to the main landing gear. The bar to the front wheel was telescopic and only needed to steer the aircraft.
---
Go on to pictures of the Kettenkrad in the movie "Saving Private Ryan"
---